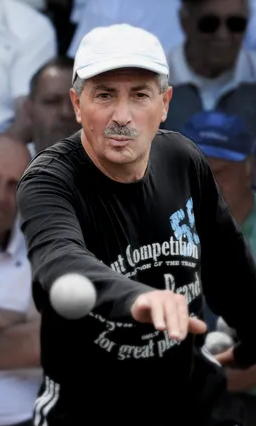 Christian Fazzino often trains to stay at a high level(voted player of the century)
You may come across good pointers who do not train their technique, but as far as shooters are concerned, it is essential to train regularly so that the gesture becomes as mechanical as possible. You can train on your own : just create your own workshops. Please see some examples :
&nbsp Practice shooting at 6 meters, 7 meters, 8 meters, 9 meters, 10 meters and then repeat. This is to practice shooting at the right distance.
&nbsp Shooting by "jumping over" (see the glossary in our tutorials for more details) : place boules in front of each other and hit the ball farthest. This requires you to shoot "plein fer".
&nbsp Shooting the jack : shooting a jack by varying the distances which is equal to "precision training shoot".
&nbsp Shooting a front ball without moving the other ball : try to shoot the opponent's ball without touching your own ball. This case is frequent in a competition, if you master it you will score points !
&nbsp Boules close together : place 3 boules close together and shoot the middle one.